At the time of this post, there were more than 100,000 websites using Hello Bar. This alone should give you a better idea of what it brings to the table when it comes to digital marketing. But don't let others dictate what you do. You should personally learn more about why this is one of the best online marketing tools and how it can help accelerate the growth of your success as a new small business owner.
You can give Hello Bar a try by simply visiting the homepage. It's here that you are asked to enter a URL: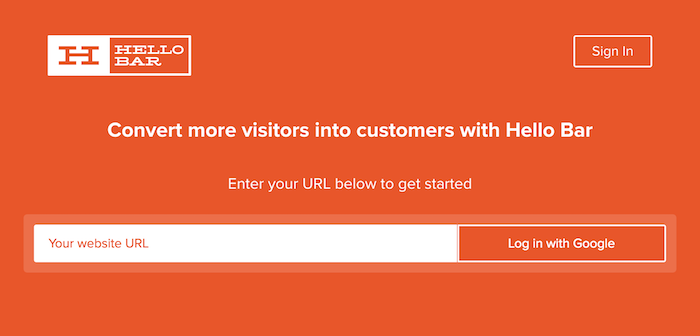 From there, you're presented with a piece of code to add to your website. Once it's verified, you're off and running.
While it always helps to experiment with the backend, let's take the time right now to see what types of features are available:
Email collection
Sliders
Popups
Top and bottom bars
Custom designs
Templates
These are some of the most popular features, but there are others for you to experiment with as well.
The page take over feature is one of my favorites, as this helps promote something when people are leaving your website, such as:
Asking people to like your Facebook fan or social network page
Asking for an email to improve your email campaign
Offering a coupon or discount code if you are selling products
Even if you only use one feature of Hello Bar, it'll probably have a positive impact on your website. And that's exactly what you want early on.